Membership in Global Compact
In 2007 Acea formally joined the United Nations Global Compact (UNGC), acknowledging consistency between the ten principles supported by the United Nations through the "Global Pact" 15, the UN's objectives of sustainable Development ("Agenda 2030", to which the UNGC expressly refers), the orientation established by the Acea Code of Ethics – whose latest edition was approved by the Board of Directors in July 2018 – and the commitment for corporate sustainability.
The advanced level Communication on Progress (CoP) is included in the Sustainability Report (consolidated non-financial report) through a combined statement of the GRI indicators and the principles of United Nations Global Compact, pursuant to the understanding reached between the two organisations.
TABLE NO. 4 - THE TEN PRINCIPLES OF THE UNITED NATIONS GLOBAL COMPACT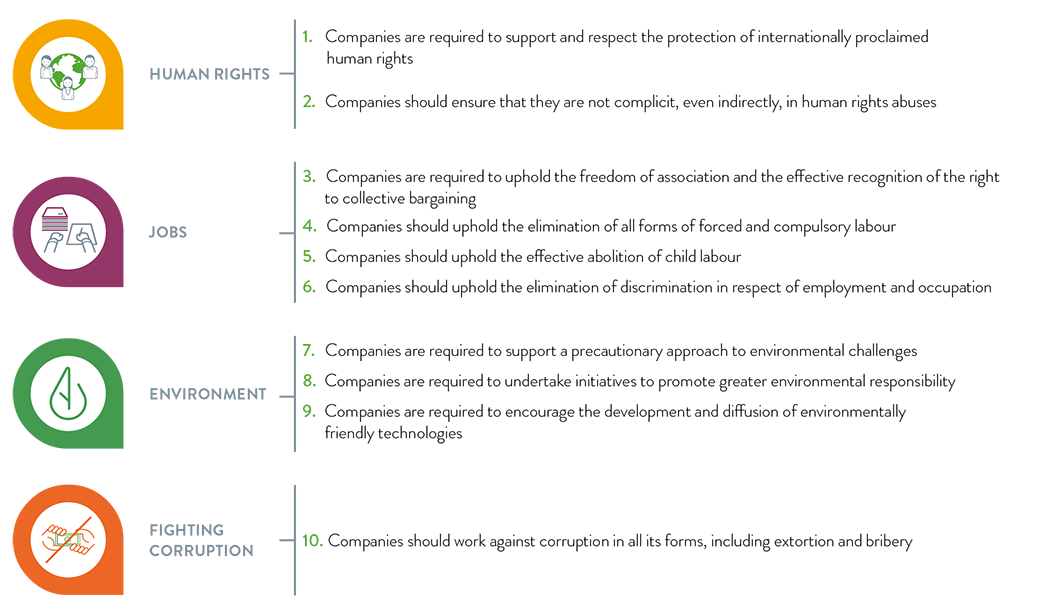 15 - The United Nations Global Compact is an initiative launched by the Secretary General of the United Nations upon the conclusion of the World Economic Forum of 1999. In his appeal he invited the leaders of the world economy to uphold and circulate nine universal principles related to human rights, labour and the environment, added to which was the tenth in 2004: anti-corruption.


ADVANCED LEVEL COMMUNICATION ON PROGRESS AND ITS CORRELATION WITH GRI STANDARDS
Since 2014, Acea has undertaken for better principles of the process qualifying the consistency between the "Global pact" and the actions taken, identifying in the Sustainability Report the elements responding to the advanced level of the Communication on Progress envisaged by the United Nations Global Compact.
The table below lists and describes, in schematic format, these elements according to 21 criteria defined by the United Nations Global Compact and states their correlation 16 to the GRI Standards (GRI 102: General Disclosures and the "Topic-specific standards" 200-Economic, 300-Environmental, 400-Social identified as "material", applied in the preparation of the sustainability report according to the "comprehensive" level of compliance.
See the GRI standard content index for the pages of the document where the relevant data and information can be found.

16 - Acea has autonomously updated the proposed scheme, linking elements of the Communication on progress and GRI Standard, maintaining the approach of the document referred to the previous version of the GRI-G4 Guidelines, the result of the collaboration of GRI and UNGC. See Making the Connection: Using the GRI-G4 Guidelines to Communicate Progress on the UN Global Compact Principles, available online in the website www.unglobalcompact.org.
TABLE NO. 5 - THE ELEMENTS OF ADVANCED COP AND GRI STANDARDS
UNGC - advanced criteria
UNGC – matching scopes
Correlation gri standards (general disclosures and topic-specific Material standards)
CRITERIA 1-2
implementation of the ten principles in the strategies and operational management of the business
integration of sustainability in corporate functions and business units
from GRI 102-18 to GRI 102-39
implementation of sustainability in the value chain
GRI 102-9 – GRI 102-10 – GRI 102-25 – GRI 204-1 – GRI 103 (1-3) di GRI 308 Assessment of environmental aspects regarding suppliers – GRI 302-2 – GRI 305-3 – GRI 308-1 – GRI 308-2 – GRI 103 (1-3) di GRI 414 Assessment of social aspects regarding suppliers – GRI 403-2 – GRI 414-1 – GRI 414-2
CRITERIA 3-5
robust human rights policies and procedures management
HUMAN RIGHTS
commitments, strategies or policies; management systems; monitoring and evaluation mechanisms
The Human Rights aspect and indicators related to it, as proposed by the GRI Standards, are relevant for multinational enterprises. Acea has therefore considered such aspects non-material. Whereas in the meaning that the United Nations Global Compact gives to aspects relating to human rights (such as employment protection, freedom of association, nondiscrimination, health and safety at the workplace, training and education and supplier social assessment), they are included in other GRI "topic-specific" standards, deemed "material", as well as in the "material topics" identified by Acea and are therefore covered in the report.
CRITERIA 6-8
robust labour policies and procedures management
LABOUR
commitments, strategies or policies; management systems; monitoring and evaluation mechanisms
GRI 103 (1-3) and indicators of the following topic-specific standards (series GRI 400: SOCIAL TOPIC 2016): Employment (from GRI 401-1 to GRI 401-3) Industrial relations (GRI 402-1) Health and safety at the workplace (from GRI 403-1 to GRI 403-4) Training and education (from GRI 404-1 to GRI 404-3) Diversity and equal opportunities (GRI 405-1 and GRI 405-2) Supplier social assessment (GRI 414-1, GRI 414-2)
CRITERIA 9-11
robust labour policies and procedures management
ENVIRONMENT
commitments, strategies or policies; management systems; monitoring and evaluation mechanisms
GRI 103 (1-3) and indicators of the following topic-specific standards (serie GRI 300: ENVIRONMENTAL TOPIC 2016): Materiali (GRI 301-1) Energy (da GRI 302-1 a GRI 302-4) Water (from GRI 303-1 to GRI 303-3) Biodiversity (from GRI 304-1 to GRI 304-4) Emission (from GRI 305-1 to GRI 305-7) Effluent and waste (from GRI 306-1 to GRI 306-3, GRI 306-5) Environmental compliance (GRI 307-1) (GRI 308-1, GRI 308-2)
CRITERIA12-14
robust anti-corruption policies and procedures management
FIGHTING CORRUPTION
commitments, strategies or policies; management systems; monitoring and evaluation mechanisms
GRI 102-16, GRI 102-17, GRI 103 (1-3) and indicators of the following topic-specific standards (series GRI 200: ECONOMIC TOPICS 2016 and series GRI 400: SOCIAL TOPIC 2016): anti-corruption (from GRI 205-1 to GRI 205-3) Public politics (political contributions)(GRI 415-1)
CRITERIA 15-18
actions aimed at upholding wider development objectives of the United Nations
strategies, business activities, actions of promotion and engagement with the stakeholders to uphold the Sustainable Development Goals (SDG's)
GRI 103 (1-3) of all the material "topicspecific standards" included in series GRI 200: ECONOMIC 2016, GRI 300: ENVIRONMENTAL 2016 and GRI 400: SOCIAL 2016 (except for the topic Respect of privacy)
CRITERIA 19-21
Governance and leadership of sustainability
commitment of the CEOengagement of the BoDinvolvement of the stakeholders
GRI 102-14, GRI 102-15da GRI 102-18 a GRI 102-39GRI 102-40 a GRI 102-44
high level of transparency and reporting
use of GRI Standards
da GRI 102-1 a GRI 102-10
external audit
GRI 102-56