Stakeholders and their involvement
Acea promotes the involvement of stakeholders 22 in line with the commitments expressed in the Sustainability Policy and the Quality, Environment, Safety and Energy System and the principles set out in the Code of Ethics, with a constructive approach that tends to rely on the results of dialogue and discussion. Identifying the different types of stakeholders and analysing and managing interactions between them and the company are continuous, dynamic and one-on-one activities stemming from both company actions and objectives as well as inputs from outside.
The stakeholder identification phase makes it possible to identify the parties directly or indirectly involved in company activities in order to assess their level of impact, quality and quantity. The analysis phase is used to perform a structured evaluation of the existing interactions both between the company and the stakeholders as well as among the stakeholders themselves so that dialogue and shared accountability paths may be developed. Lastly, the management phase leads to the identification of answers to the questions raised by the stakeholders or the company in order to pursue the achievement of company goals consistent with expectations.
22 - Stakeholders (interested parties) are those entities - individuals, groups, organisations - having significant relations with the company and whose interests are involved in the corporate activity for various reasons in relations of exchange held with the latter or because they are significantly influenced by them.
CHART NO. 14 - STAKEHOLDERS AND THEIR INVOLVEMENT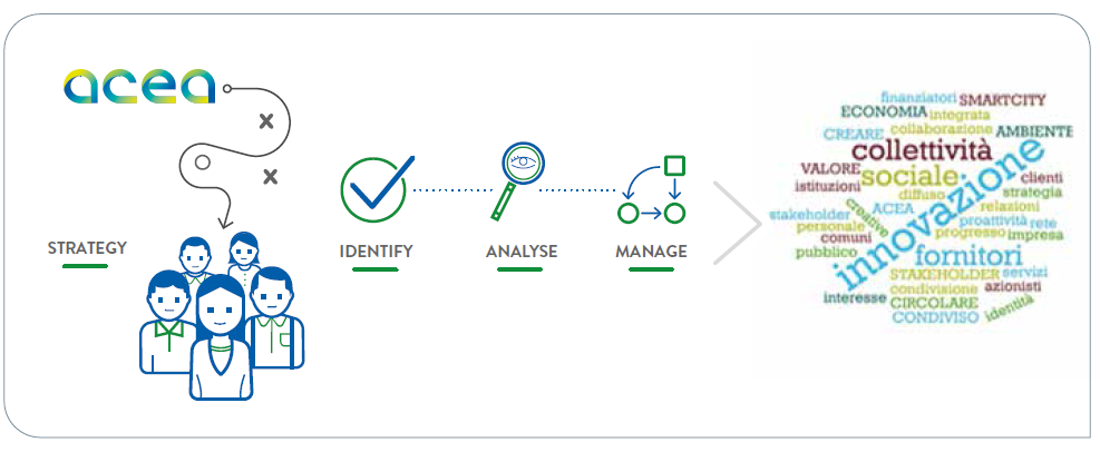 The "Acea stakeholder map" identifies the macro-categories of key stakeholders: customers, employees, suppliers, shareholders and financiers, institutions, community, environment and the company itself.
In respect of each category, engagement initiatives are undertaken which sometimes result in collaborative paths, projects able to generate shared value, crucial to both fostering business development and reinforcing and enhancing the standing and repute ascribed to Acea by its stakeholders. See the dedicated boxes.
CHART NO. 15 – STAKEHOLDER MAP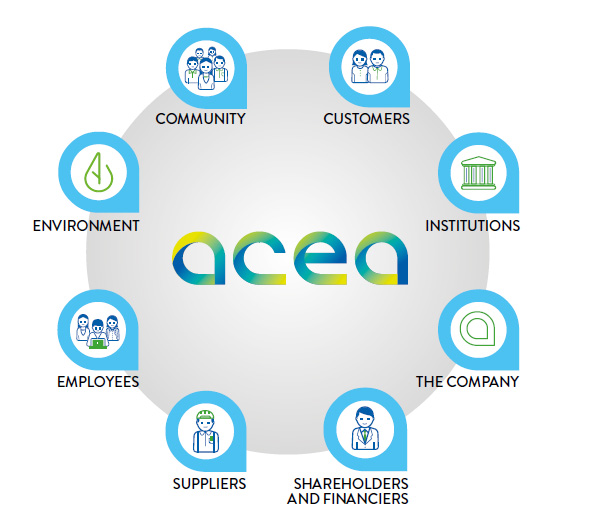 TOOLS AND ACTIONS FOR SUSTAINABILITY
Acea contributes to the economic and civil development of local communities. Attention to the quality of the services provided and the efficiency of the industrial processes managed, the protection of the natural environment and the analysis of the evolutionary dynamics of the territories in which it operates facilitate the Group's growth in line with the needs of the region and its stakeholders, with a view to sustainable development.
The Group works towards spreading sustainability values, culture and practices, both within the organization and in the contexts it operates in, adopting tools and policies which today cover the most important phases of planning, management and accounting.
CHART NO. 16 - CSR TOOLS